(ages 7-9)
July 20-22, 2018
Arrival: 3:00pm Friday
Departure: 11:00am Sunday
Good rate (after May 31): $130
Better rate (March 1 - May 31): $120
Best rate (before March 1): $110
This weekend camp is a great way to introduce your young camper to RMMC,
 with games, crafts, worship times, and lots of fun. Grade 3 campers get to experience RMMC overnight as our youngest resident campers.
A closing program on Sunday gives parents and siblings an opportunity to see a slide show and hear campers share about the weekend. Each camper will receive a free t-shirt. Brunch is served on Sunday at 10:30am (by donation) for families of the campers.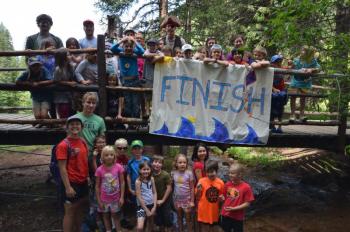 MAY 15th - Submission deadline for registrations. After this date, please contact camp for availability. Note: a physical exam is not required for Grade 3 campers.
REGISTRATION - Register online or download the registration form and mail to RMMC. A $50 non-refundable deposit is due when registering. All registrations are due by May 15th. For late additions please call the camp office.
CAMPER GRADE – The grades for camps listed represent the grade campers will be going into for the next school year. To offer campers and families more options when selecting a week of camp, we have expanded the camp sessions to include an age range to permit campers a grade above or below the listed grade level to attend. Select the camp session that works best.
SUMMER STAFF - Our summer staff are typically students from Mennonite colleges and universities. We run background checks on all of our summer staff and require three references that guide our hiring decisions. A week of staff orientation focuses on the well-being of campers to ensure their physical and emotional safety while at camp. All hike leaders and Wilderness staff receive Wilderness First Aid training. Rock climbing and rappelling supervisors are trained and certified by a professional instructor.
SCHOLARSHIPS - Scholarship funds are available to help ensure that finances are not a barrier to attending camp and to help cover registration and coordinated transportation fees from Kansas and Colorado Springs. For scholarship assistance please contact the Executive Director, Corbin Graber (719-687-9506 or corbin@rmmc.org). 
SIBLING / MULTIPLE CAMP DISCOUNT - If one child attends multiple youth camps or siblings attend one or more youth camps, each camper is eligible for a $10 discount off each camp. Select the discount as part of the registration.
FREE T-SHIRT - All first time campers and the friend they come with will receive a t-shirt as a thank you for coming to RMMC. T-shirts will be given to campers during the week of camp.
CORRESPONDENCE AND TECHNOLOGY - Family and friends are encouraged to write to their camper through mail or email (camper@rmmc.org). Campers can send letters and postcards through the camp mailbox. Cell phone use will be permitted at the summit of hikes as a fun way to communicate with friends and family back home. Our hope is to offer a unique experience away from the "normal" routines of life. We ask campers to leave electronic devices in the cabin for use during designated times. Cameras may be used throughout the week. Lost, stolen, or weather damaged items are not the responsibility of RMMC.
PAYMENTS – Payment options available through online registration include payment in full, $50 non-refundable deposit with remaining balance due at camp, or $50 non-refundable deposit and remaining balance paid in monthly installments. We accept cash, checks or credit cards. 
PACKING LIST – Please be sure to have all required forms for the week at camp. Please mail, email, or fax completed forms BY May 15th. ​For more information, including a list of things to bring, click on the "Prepare To Come" link on the right.