The Vision 2020 Capital Program is moving ahead to other needs of the Rocky Mountain ministry. In addition to the Pleiades facility rebuilding (now being greatly enjoyed), the boys' bathhouse on the Chapel side of camp was the next structure identified for replacement. With help from great volunteers, the main renovation of the Boys' Bathhouse has been completed!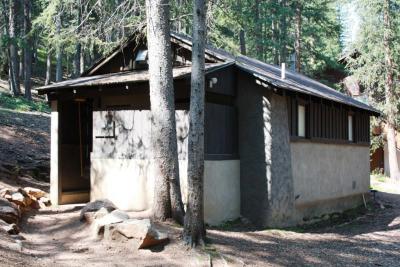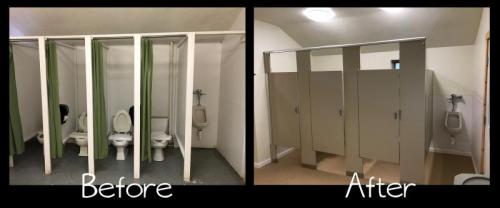 Taking into consideration a variety of factors, the camp board of directors has decided to renovate (instead of replace) the boys' bathhouse, for the following reasons:
The time needed to raise funds and install a new septic system on the Chapel side (no building permits for new construction can be obtained before a septic system is in place). Estimated cost $175,000.
The time needed to raise funds and build a new bathhouse. Estimated cost $200,000.
The current feedback from campers, guests and volunteers for needed improvements to the boys' bathhouse soon, not in 3-4 years.
The appreciation (and expectation) for sleeping facilities with indoor restrooms versus a walk to an area bathhouse. Why build a new bathhouse if cabins with indoor bathrooms are the desire for the future? The decision to renovate the interior of the boys' bathhouse at this time addresses these current realities.
The bathhouse received the same finishes as the Eiger bathhouse (changing space as part of each shower, new sinks, wider toilet stalls, and new partitions). A family bathroom will be also added with a separate entrance and will include a shower, toilet, and sink (still in progress). This will take the space of the old changing area in the boys' bathhouse. The estimated cost for renovation is $30,000.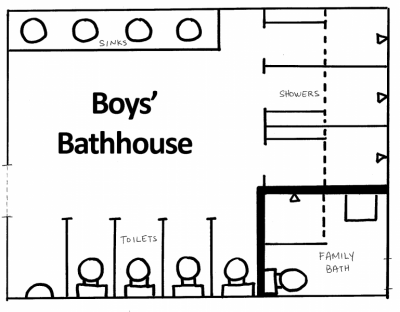 Visit RMMC's Facebook page to see photos of the renovation.