Rocky Mountain Mennonite Camp is pleased to offer a great selection of food choices to our campers and guests. Our staff works hard to provide a quality meal at an affordable price. Fresh fruit, bread, jelly, hot tea, and a Keurig machine are always available in the dining areas. Meals include a main dish option, vegetarian option, salad (lunch & supper), and dessert (lunch & supper) along with beverages (water/iced tea/lemonade, coffee, hot chocolate). Peanut butter is available unless a peanut allergy camper is on site.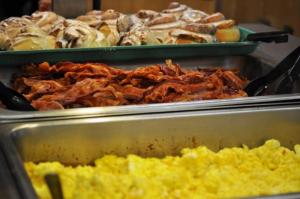 BREAKFAST

(served at 8:00am)

LUNCH

(served at 12:30pm) 

SUPPER

(served at 5:30pm)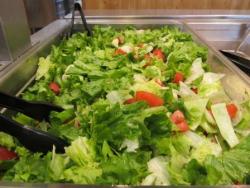 SUNDAY BRUNCH

(served at 10:30am)

CONTINENTAL BREAKFAST included in Brunch price

(served on Sundays at 8:00am)

- Cinnamon Rolls or Coffee Cake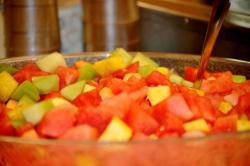 DRINKS AVAILABLE DURING MEALS
- Juice (at breakfast and lunch only)
- Iced Tea (at supper only)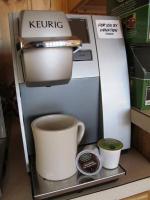 A Keurig machine is located in the Zurich Dining Room for use by donations.
When using a camp provided k-cup, a donation of $2 per cup is requested.
When using a guest provided k-cup, a donation of $1 per cup is requested.
FOOD SERVICE AVAILABILITY
Food service is only available for groups of 12 or more people unless another guest group is already eating meals.  All meals will be served for the summer season (June 1st through August 1st). Guests are required to utilize food service from camp (for groups 12 or more) unless eating away or staying in an accommodation with a kitchen or the campground.  Facilities with a kitchen include: Emmental Retreat Center, Eagle's Nest, Rocky Ridge, Sky-Hi-View, Solitude Center, Park Ridge. Guests will be financially responsible for meal cancelations within 24 hours of meal time.
SPECIAL DIET CONSIDERATIONS
Please contact camp at least two weeks in advance about our menu offerings and special dietary considerations (gluten free, dairy free, vegan, etc).