Spring Retreat: April 19-22, 2018
Fall Retreat: November 1-4, 2018
These retreats are geared towards (but not limited to) members of Mountain States Mennonite Conference churches with a purpose of connecting by faith fellowship and fun through quilting. The weekend will conclude with a Sunday Morning Worship and brunch.

Finally you'll have time to get to that quilting project you haven't had time for. Share stories, ideas, tips, and whatever else you want to talk about while your fingers are busy piecing or sewing. Even if you are not a quilter and still would enjoy attending this retreat for the fellowship or to work on another project (needlepoint, embroidery, cross stitch,etc) please join us! Our leaders for the weekend are Barb Swartzendruber and Mary Yoder.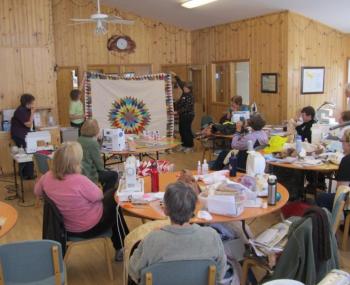 ARRIVAL: Thursday at 4:00pm    
DEPARTURE: Sunday at 11:00am
For early arrival or late departure requests please contact camp.
MEALS: 
The first meal served is Thursday supper (5:30pm) and concludes with Sunday brunch (10:30am). Friday and Saturday meals are brunch and supper 

COST:
The cost includes lodging, meals, and a program fee and is based on your accommodation preference. The price below reflects the full retreat, Thursday to Sunday. If you are not attending the retreat beginning on Thursday, please contact camp to amend your charges.

Pleiades or Emmental (Note: bedding and towels provided)
Chalet at Main Camp (Note: please bring own bedding and towels - can also be rented for $5.00)
ACCOMMODATIONS: Housing is assigned on a first come first served basis for your preferred housing location. Reservations are limited. The housing location options are Emmental, Pleiades or a Chalet at Main Camp. To see detailed information about these facilities, go to our Facilities page.
REGISTRATION: A $25 deposit is due at registration. This will confirm your space for the retreat. Deposit is non-refundable for cancellations within 2 months of the retreat date. You can register by calling us, mailing in a registration form from the brochure, or using our online registration. Online registration allows you to save your basic information for ease when registering in following years. You can also pay online with your credit card.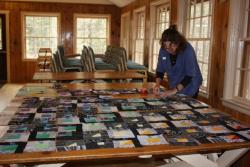 PREPARE TO COME: ​RMMC is located in the beautiful Rocky Mountains. To prepare for your retreat with us, please check out our information about things to know before you arrive. Follow the link on the right "Prepare to Come".
QUILTING ITEMS TO BRING:
  - Project items (irons and ironing boards provided)
  - Items for show and tell
  - Short (5 min) sharing of quilting tips or demonstrations, if desired.
  - Power strips (if you have them)
  - Extra items you might need (machine needles, fusible web, bobbins, thread, etc)
  - Chair cushions (for extra padding) and foot board (for extra support)
 
PERSONAL ITEMS TO BRING:
  - Snacks to share with everyone
  - Toiletries
  - Clothing (variety of layers for varying temperatures)
  - Flashlight (for walking back to cabin at night)
  - Bedding if staying in a Chalet at Main Camp
COLORADO QUILT TRAIL: RMMC recently became part of the Colorado-Midland Quilt Trail which features businesses in Colorado Springs, Old Colorado City, Woodland Park, Divide, Cripple Creek and Victor. Each quilt square has historic, meaningful or personal significance to the location. The quilt square was donated and painted by Angela Nofziger and Elizabeth Nijkamp (pictured), both faithful attenders to RMMC's multiple quilt retreats. The pattern selected for RMMC is appropriately entitled "Evergreen" representing the green of the trees and blue of the sky. The quilt block welcomes guests as it hangs outside the main office entrance.  Quilt Trail Brochure.