March 2-4, 2018
Join us for Men's Retreat to spend time with God and fellow men in the beauty of creation. Men's Retreat is planned each year by Mountain States Mennonite Conference. The festivities for the weekend include worship times, foosball, ping pong, chess, human curling, snowshoeing, great fellowship and more!
SPEAKER: Herm Weaver (Nederland, CO)
Herm will be leading the worship times by sharing his stories and thoughts. The theme for the weekend, "Practice of love" will center on practicing love as a core part of our life stories. Herm will guide participants in reflecting and living those stories, taking insights gathered during the weekend and applying them to life after the retreat. Woven throughout the weekend willb e times of reflection to meditate and allow the Spirit to move. 
REGISTRATION:
 Register online, download the PDF registration form to mail, or call camp to register. A $50 non-refundable deposit is due at registration. This will confirm your space for the retreat. 
​ARRIVAL / DEPARTURE: The retreat begins Friday after supper and concludes Sunday after worship and brunch.
​COST: The cost for the weekend covers meals, lodging, and the program. 
Emmental or Pleiades  (Note: bedding and towels provided)
 Shared room: $125 / person

 Single room:  $180 / person
Chalet at Main Camp (Note: please bring own bedding)
 Shared room: $95 / person

 Single room: $125 / person
Saturday only (meals & program): $45 / person
FRIDAY / SATURDAY WORK PROJECTS:
We hope Men's Retreat participants will continue the tradition of tackling necessary projects that help Rocky Mountain better serve our campers and guests (the Men's Retreat logo does have a hammer in it!) If you are planning on working all or part of the day on Friday, please contact the camp by phone (719-687-9506) or by email (info@rmmc.org) ahead of time so meals and other details can be planned. THANKS!
ACCOMMODATIONS: Housing is assigned by camp on a first come first served basis for your preferred housing location. Reservations are limited. The housing location options are Emmental, Pleiades or a Chalet at Main Camp. Emmental and Pleiades have 2 twin beds per room and linens and towels are provided. For those wishing to stay at main camp, please bring linens and towels. To see detailed information about these facilities please go to our Facilities page.
PREPARE TO COME: ​RMMC is located in the beautiful Rocky Mountains. To prepare for your retreat with us, please check out our information about things to know before you arrive. Click "Prepare to Come" under the Documents and Forms block on the right.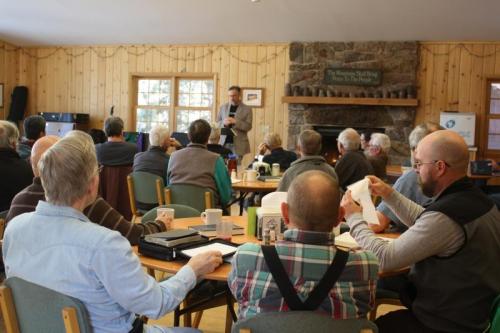 THINGS TO BRING:
Friends!

Warm clothing for tubing, snowshoeing, broomball, & human curling

Toiletries

Sleeping bag and pillow (for those staying in Main Camp accommodations)

Hand tools (if planning on helping with work projects)

Bible & notebook / journal

Musical instruments (optional)

Snacks to share (optional)

Camera (optional)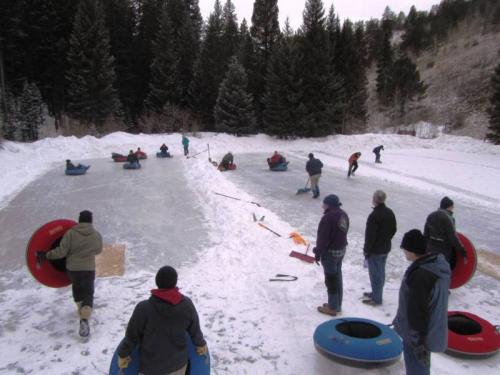 RETREAT SCHEDULE (Sample)
​Meals on Friday are for work project volunteers.
   8:00     Breakfast for volunteers
 12:30     Lunch 
for v
olunteers
   5:30     Supper 
for v
olunteers
   6:30     General registration
   7:00     Welcome for retreat participants
   7:30     Speaker introductions
   8:00     Free time, snacks, and conversations
   9:00     Morning worship session
 10:00     Free time, tournaments & work projects (optional)
   1:30     Reflection / Solitude time
   2:30     Free time (human curling, tournaments, snowshoe hike)
   7:00     Evening worship session
   8:30     Hymn (Favorite Song) Sing
   9:30     Free time (musical jam time, finish tournaments, and more)
   8:00     Continental Breakfast
   8:30     Morning worship session
 10:00     Men's Retreat planning meeting (election of new committe member)
A committee from the Mountain States Mennonite Conference plans the annual Men's Retreat. Each year a person is selected to replace the outgoing member who has completed his three year term. Selection of the new member will be held Sunday at the retreat. If you are interested in helping with the planning committee for next year or would like additional information about this year's retreat, feel free to contact camp.