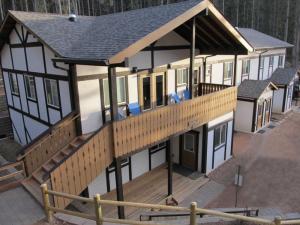 click on photo above for interior photos and a floor plan.
Pleiades is located a short distance from the Dining Hall Lodge, just behind the Eiger bathhouse. 
​Living space:  The first floor has a small waiting lounge with couches. The second floor has a large lounge which is the Summer Staff Lounge in the summer months, and can be enjoyed by guests of Pleiades in the off seasons months. 
Toilet rooms and shower rooms are located on each floor.
​Sleeping space: ​The cabin has ten bedrooms, all with two single beds (linens and towels provided). Bedroom #3 is ADA accessible, including the entrance to the building and one bathroom.
​Kitchen: This facility does not have a kitchen. It has a microwave and mini-fridge to store personal food items. 
​Accommodates: ​up to 20 people.
Infirmary: 
The Infirmary is located on the first floor and has a private entrance. It is reserved in the summer during youth camps for any ill campers and the nurse. This room has two twin beds and a private toilet and sink.
Availability: ​Open year round. 
Pleiades is rented per room, not as one facility.
2018 Prices: $70/room/night (10 bedrooms, up to 2 people per room).