The new Pleiades facility is complete! Thanks to the hard work from volunteers, donors, and staff, we dedicated the building on May 29, 2016. Quite simply, the new facility is AWESOME! Guests love it, volunteers love it and the addition of a needed staff residence is well serving and supporting the mission and ministry of Rocky Mountain. You can continue to support this project with your financial gifts. Together we will ensure that current and future generations will be blessed by their time here.

The Pleiades building provides for the following improvements:
- Two person rooms to better serve the needs of church groups, adult retreats and volunteers.
- Accessible rooms (main floor) and inside bathroom facilities near the DH/Lodge.
- Provide a comfortable and functional infirmary as required by our child care license.
- Add needed permanent staff housing.
- Save money with improved energy efficiency (insulation, windows, foundation,etc).
- Relocate staff lounge (now in Langnau room in DH/Lodge) for new office entrance and lounge area for all guests in DH/Lodge.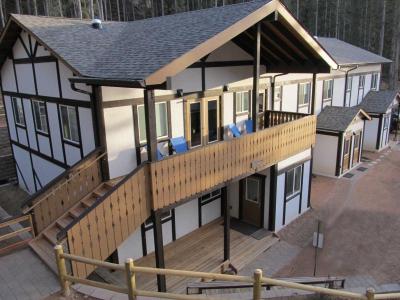 "The one who made the Pleiades and Orion, and turns deep darkness into the morning, and darkens the day into night, who calls for the waters of the sea, and pours them out on the surface of the earth, the Lord is his name." - Amos 5:8