Contact the camp for available dates and facilities or view the Available Dates. Reservations are available at least three years in advance. Visit the Facilities page to see photos and information about each cabin. For a cabin price list view our Reservation Guide.
A rental agreement will be sent to the group contact stating the terms of the reservation one year prior to arrival date. For reservations scheduled more than one year in advance a confirmation will be sent with the dates and terms.
3. Rental deposit
The deposit is due 30 days after receipt of the rental agreement. For Campground,
Chalet, Emmental Retreat Center, Park Ridge, 
Pleiades, and 
Rustic Cabin 
accommodations the deposit is 25% of the estimated total. For Ridge Cabins the deposit is 50%. No deposit is required for food service.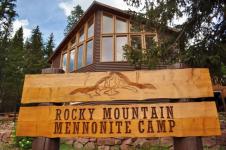 4. Prior to arrival
Inform the
RMMC
office of the number of guests attending and confirm food service and dietary needs two weeks prior to the arrival date. Also review the guidelines of
RMMC 
and communicate them to all group members. 
Camp Guidelines:
RMMC is a smoke free facility and environment.

Please DO NOT bring the following items to camp: Pets (large or small), alcohol, tobacco, marijuana, illicit drugs, firearms, fireworks, four wheelers, dirt bikes or drones.

Please refer to "Prepare To Come: Guest Groups" to read more guidelines regarding your stay with us. We expect all guests to comply with the guidelines outlined in that document.
5. Upon arrival (Check in after 4:00pm)
Check in at the office before proceeding to your accommodations and pass along the following information:
Correct number in group

Any meal plan changes or corrections

Method and time of payment

Any AV equipment needs or other details
6. During your stay
Comply faithfully with the camp policies and guidelines (ie: no pets please!) and assume all risk of personal injury and property loss or damage.  
7. Upon departure (Check out by 11:00am)
Check out at the office before departing to notify office of group's departure. Settle all financial arrangements and return facility keys.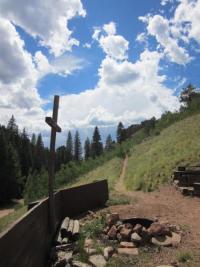 ARRIVALS / DEPARTURES
Normal arrival time is 4:00 pm and departure time is 11:00 am. You may request to extend your stay if no group is arriving in your facility at an additional fee of 10% per hour based on the facility cost. 
Saturday Arrival / Departure - Groups arriving or departing on Saturday will be assessed an additional 50% of the facility charge for that day as it interrupts a typical weekend reservation (Friday-Sunday). Applies to reservations between June 1 and September 15.
DISCOUNTS
Child Rate
– age 3-11: half price; 2 and younger: FREE (applies only to per person fees)
Extended Stay: Lodging
– four nights and longer, 15% discount on lodging
Extended Stay: Meals
– for guests staying four nights and longer and eating
all
served meals in the dining hall, 15% discount on meals
Last Minute Stay: Lodging
– reservations made within 2 weeks of stay, 15% discount
Off-Season: Eagle's Nest
– for stays between Sept. 16 and May 31 - 15% off
Off-Season: Sky-Hi View
 –
for stays between Sept. 16 and May 31 - 30% off (no water)
FINANCE POLICY
Deposits received will be applied toward payment of fees and are non-refundable unless notice of cancelation is given at least three months prior to reservation date AND if another guest group is found to rent the facility.
Cancelation of a rental agreement any time within three months prior to the reservation date requires payment of 80% of the total cost unless another guest group is found to rent the facility. Guaranteed minimum based on number of people applies to Chalets, Emmental, Park Ridge, Pleiades, and Rustic Cabin facilities only. 
Meal Cancelations - Guests will be financially responsible for meal cancelations within 24 hours of meal time. 
FACILITY COSTS
P
lease refer to the Reservation Guide listed on the right side of this page for all facility costs. 
YOUTH GROUP GUESTS
Each youth group is responsible for their own program and program supervision.  A written schedule of events is requested prior to the arrival date and the group will be responsible for registration and room assignments.  Youth groups are required to have one adult sponsor for every 10 youth.