EXPERIENCE THE ROCKIES
What better place for your individual, family or group retreat in a beautiful, secluded mountain setting. Rocky Mountain Mennonite Camp is also available for non-profit guest groups who have interests compatible with Christian principles.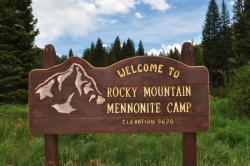 MISSION STATEMENT
Rocky Mountain Mennonite Camp is a ministry of the Mennonite Church with the purpose of providing a place of retreat which encourages holistic Christian growth by fostering the spiritual, social, physical, and intellectual growth of each guest.
SETTING
Rocky Mountain Mennonite Camp is situated on the west side of Pikes Peak at 9,620 feet above sea level and is completely surrounded by Pike National Forest.  Campers and guests have the chance to experience Colorado's high country wilderness, with its clear streams, conifer and aspen forests, animals, birds, wildflowers, and the wonder of the world above timberline.
MENNONITE FAITH
People of all faiths & backgrounds are welcome to stay with us. To learn more about the Mennonite faith, check out "What Mennonites Believe" at www.thirdway.com/menno.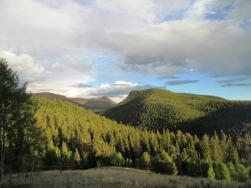 MOUNTAIN LIVING
Camp's elevation is 9,620 feet so it is important for campers and guests to take time to adjust to the high altitude. About one in four visitors to Colorado suffer from acute mountain sickness, the mildest form of altitude illness. Common symptoms include headaches, shortness of breath, fatigue and dry throat. Things you can do to minimize or avoid altitude sickness include:
Drink plenty of water before and during your time here to prevent dehydration.

Avoid strenuous exercise (hiking, jogging, etc.) and salty foods when you first arrive.

A good first night's rest is very helpful in giving your body time to acclimate.

If coming from sea level or low elevation, a day or night spent in Colorado Springs (6,035 ft) will help allow your body more time to adjust to the change in altitude.

To learn more about altitude sickness and how to prevent and treat it, visit the Institute for Altitude Medicine.
SUMMER WEATHER
Each day offers a sample of the seasons: spring in the morning; summer in the afternoon; fall in the evening.  Even winter can be represented in early June with snow!  Rain and hail storms can also come at a moment's notice just to keep things interesting.  Being prepared with appropriate clothing is the key to enjoying the variety of weather the Rocky Mountains offer!
WINTER WEATHER
Colorado winter temperatures range from -10°-0°F at night to a high of 35°-45°F during the day.  Because of low humidity (8-10%) temperatures feel like 45°-65°F.  Sunshine makes all the difference with an average of 300 days of sun per year.  Clothing items to bring include: warm winter coat, snow pants, gloves, snow boots, and hat.