(ages 14-17)
July 29-August 4, 2018
Good rate (after May 31): $475
Better rate (March 1 - May 31): $455
Best rate (before March 1): $435
Wilderness Camps have a capacity of up to 10 campers per week ensuring that a 3:1 camper to counselor ratio is maintained. Rocky Mountain Mennonite Camp offers the most affordable wilderness experience of this style anywhere so please register early as camps fill up quickly! You can register online for all wilderness camps! Save your space with your completed registration and non-refundable deposit of $50 (paid by check or credit card and applied toward total charge).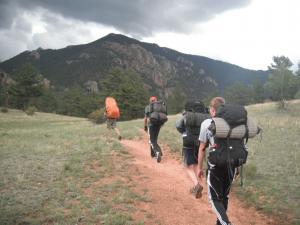 MAY 15th - Submission deadline for registrations, camper physicals, release forms, and transportation requests. After this date, please contact camp for availability.
REGISTRATION - Register online or download the registration form and mail to RMMC. A $50 non-refundable deposit is due when registering. All registrations are due by May 15th. For late additions please call the camp office.
PHYSICAL EXAM - To complete the registration, a current (within 24 months) health physical is required to attend all week-long youth camps. Please submit the physical form by May 15th. If a physical exam is scheduled after that date, please inform camp and submit the physical immediately following the exam. This must be completed in order for you to attend camp.
CAMPER GRADE – The grades for camps listed represent the grade campers will be going into for the next school year. To offer campers and families more options when selecting a week of camp, we have expanded the camp sessions to include an age range to permit campers a grade above or below the listed grade level to attend. Select the camp session that works best.
SUMMER STAFF - Our summer staff are typically students from Mennonite colleges and universities. We run background checks on all of our summer staff and require three references that guide our hiring decisions. A week of staff orientation focuses on the well-being of campers to ensure their physical and emotional safety while at camp. All hike leaders and Wilderness staff receive Wilderness First Aid training. Rock climbing and rappelling supervisors are trained and certified by a professional instructor.
SCHOLARSHIPS - Scholarship funds are available to help ensure that finances are not a barrier to attending camp and to help cover registration and coordinated transportation fees from Kansas and Colorado Springs. For scholarship assistance please contact the Executive Director, Corbin Graber (719-687-9506 or corbin@rmmc.org). 
SIBLING / MULTIPLE CAMP DISCOUNT - If one child attends multiple youth camps or siblings attend one or more youth camps, each camper is eligible for a $10 discount off each camp. Select the discount as part of the registration.
FREE T-SHIRT - All first time campers and the friend they come with will receive a t-shirt as a thank you for coming to RMMC. T-shirts will be given to campers during the week of camp.
CORRESPONDENCE AND TECHNOLOGY - Family and friends are encouraged to write to their camper through mail or email (camper@rmmc.org). Campers can send letters and postcards through the camp mailbox. Cell phone use will be permitted at the summit of hikes as a fun way to communicate with friends and family back home. Our hope is to offer a unique experience away from the "normal" routines of life. We ask campers to leave electronic devices in the cabin for use during designated times. Cameras may be used throughout the week. Lost, stolen, or weather damaged items are not the responsibility of RMMC.
TRANSPORTATION - Families are responsible to make arrangements for getting their campers to RMMC. Camp facilitates transportation to and from Kansas or Colorado Springs. A deposit is required to save your space. Register by May 15th to guarantee a space. After May 15th, any remaining spaces will be filled on a first-come, first-serve basis.
COLORADO SPRINGS, CO (to/from airport, bus station, or other designated location)  - $20 per camper per way
HESSTON and SALINA, KANSAS (Not available for 3rd Grade Resident or Sr High Wilderness I & II) - $95 round trip per camper or $55 one-way per camper. Departs Sunday morning and returns Saturday evening
PAYMENTS – Payment options available through online registration include payment in full, $50 non-refundable deposit with remaining balance due at camp, or $50 non-refundable deposit and remaining balance paid in monthly installments. We accept cash, checks or credit cards. 
PACKING LIST – Please be sure to have all required forms for the week at camp. Please mail, email, or fax completed forms BY May 15th. ​For more information, including a list of things to bring, click on the "Prepare To Come" link on the right.
PHOTOS - 
To see photos from previous Wilderness Camps go to our 
album on Facebook