Summer camp is back
After a year of drought without campers, Rocky Mountain is looking forward to providing singing, recreation, hiking, arts & crafts, morning devotion, BBQ chicken, polar plunge, campfire worship, trading post, nature study, animal survival, rock climbing/rappelling, boat races, cinnamon rolls, backpacking, and many more camp experiences. We are filled with gratitude for the campers, families, guest groups, donors, conferences, churches, volunteers and staff who joined together to sustain RMMC thought this coronavirus storm
Here's to a fun and meaningful summer! 
PICTURED: Pastor Dave Foncannon is right at home leading music for campers in the camp chapel.                          
New to rocky Mountain this summer
The phrase "Never waste a good crisis" has been received in a positive light to re-think and re-imagine how camp offers hospitality to the many campers and guests that enjoy retreat while they are here. The unique beauty of God's creation at RMMC has always been a special part of the experience. With the coronavirus pandemic encouraging all of us to be outside and enjoy the outdoors more, the following ideas were inspired:
PICTURED: Octagonal picnic tables have been located on the patio where BBQ chicken or popcorn over a fire has been served. The new tables will offer additional and comfortable outside dining options. The sail shades are still coming but require engineering and 12 foot deep holes to erect the poles that will support them and provide an open air pavilion experience.
PICTURED: From octagonal tables to hexagonal swings: a circle of 6 porch swings was added last fall to the space/place near the stream and the chapel bridge where many boat races and baptisms take place. With a borrowed design from our Eastern Mennonite camps, Ed Shirk was invited to plan and build (with numerous volunteers and camp staff) another gathering space for all who come.
PICTURED: New road signs will greet and help direct camp visitors to their RMMC destinations. The camp logo and name combination is for signs on the public road to the Crags. The camp logo by itself is intended for signs on camp roads to facilities. A new addition is the inclusion of arrows to the Chapel and Campground ( see center sign). Thanks to Marc & Vonna Yoder for memorial funds in support of this project.
Volunteer groups prepare for coming summer
Camp is continually humbled by the ongoing volunteers who support the Rocky Mountain ministry. This spring, the help of Mennonite Disaster Service, participants of Memorial Day Work & Play Retreat, and a group from Lancaster County, PA was instrumental in preparing the camp for a safe, clean, and fun summer.
PICTURED: Mennonite Disaster Service volunteers (17 in all) came to Rocky Mountain May 23-29, 2021 to continue their work in fire mitigation across the camp property. This included removing beetle-infested trees, blown-over tress from a recent wind storm, and thinning and removing standing and fallen fuels. The effort was additionally supported by MDS foodservice volunteers.
PICTURED: Memorial Day Work & Play participants are offered a day of work and play in getting the camp up and running for a new summer camping season and enjoying the holiday weekend. Thirty-three volunteers came May 28-31 to clean ridge cabins, Emmental, and main camp facilities. They replaced winter equipment with summer equipment (i.e. broom hockey to boating on the pond), prepared the health center, serviced the camp tractors, and leveled the patio for picnic tables and benches . . . to name a few things.
PICTURED: Camp was blessed by a traveling group of young adults from churches of the Groffdale conference in Lancaster county PA, May 30th – June 3rd. They continued the cleaning efforts of the work and play retreat by cleaning more cabins and helping with laundry. The Chapel got a good spring cleaning as did all the facilities at Park Ridge. In the spirit of work hard & play hard, the right balance of a friendly and competitive volleyball game was enjoyed with the summer staff who arrived early. Game outcome? The team from PA won! 😀
With the success of the "
Paying the Legacy Forward
" campaign, please consider your support of the camp scholarship fund or the VISION 2030 Capital Campaign.
Who's been helping
Thank you to all of our volunteers this month:
Adams, Imanii
Beggs, Ray
Compton, Aoife
Compton, Connor
Compton, Ella
Compton, Martin
Compton, Rachelle
Compton, Thomas
Diller, Jan
Diller, Jim
Elmhorst, Jeanne
Elmhorst, Tom
Gundy, David
Gundy, James
Gundy, Marjorie
Gundy, Michelle
Gundy, Ron
Gundy, Teresa
Gundy, Wendell
King, Robert
Kulp, Ethel
Lamman, Anne
Lamman, John
Martin, Annie
Martin, Elsie
McDowell, Kenneth
McDowell, Matthew
McMurry, Cash
McMurry, Julian
Metzler, Linda
Metzler, Ray
Miller, Bryan
Miller, Les
Miller, Byron
OGrady, Trish
Penner, Janice
Penner, Mike
Penner, Mil
Ragsdale, Bill
Ratzlaff, Aaron
Ratzlaff, Audrey
Rogers, Ariadne
Rogers, Corbin
Rogers, Meghann
Rogers, Victor
Sauder, Janelle
Schlabaugh, Karen
Schlabaugh, Merle
Swartzendruber, Doug
Swartzendruber, Will
Thomas, Fannie
Thomas, Richard
Unruh, Paul
Yoder, Marc
Zimbelman, Matt
Zimmerman, Lorraine
Zimmerman, Louise
Come volunteer
RMMC relies on the help of volunteers to keep the ministry going. Your help with any camp tasks is greatly appreciated! If you have interest in volunteering, call (719-687-9506) or email ([email protected]) RMMC.
Long-term volunteers: help in Food Service, Maintenance, and Housekeeping. Service term can be for up to a year if so desired.
what you said
"Thank you for the effort and dedication to make sure our retreat was wonderful!" – Eagles Nest group
"The setting is top-notch, and has many fond memories" – Solitude Center guest
you've been spotted
We spotted Trever Stutzman on his way home after spending the better part of his year on the road. Trever took full advantage of the year of Zoom, joining his classes remotely from all over the country. His bus is complete with a wood finish, as well as a sink, refrigerator, composting toilet, heater, dining table/bed, and storage compartment! Lights are powered by the sun with three solar panels on the roof that charge batteries in the cab.
PICTURED: Trever Stutzman on a pit stop at camp before returning to Denver. (use slider for arrows to see inside)
Did you know?
There are 52 structures at Rocky Mountain that have a roof and a door for counting purposes. The saying "Rome wasn't built in a day" is the same for camp. RMMC has facilities that are representatives of its beginnings of camp (i.e. nature center which originałly served as the camp office) as well as the newest (i.e. the third iteration of Pleiades in 2016). With a mindset of stewardship, camp cares for these facilities that make the ministry and programs of the camp possible.                 

Please visit our MAKE A RESERVATION page which lists the dates of available nights for ridge cabin accommodations. Please call to verify availability.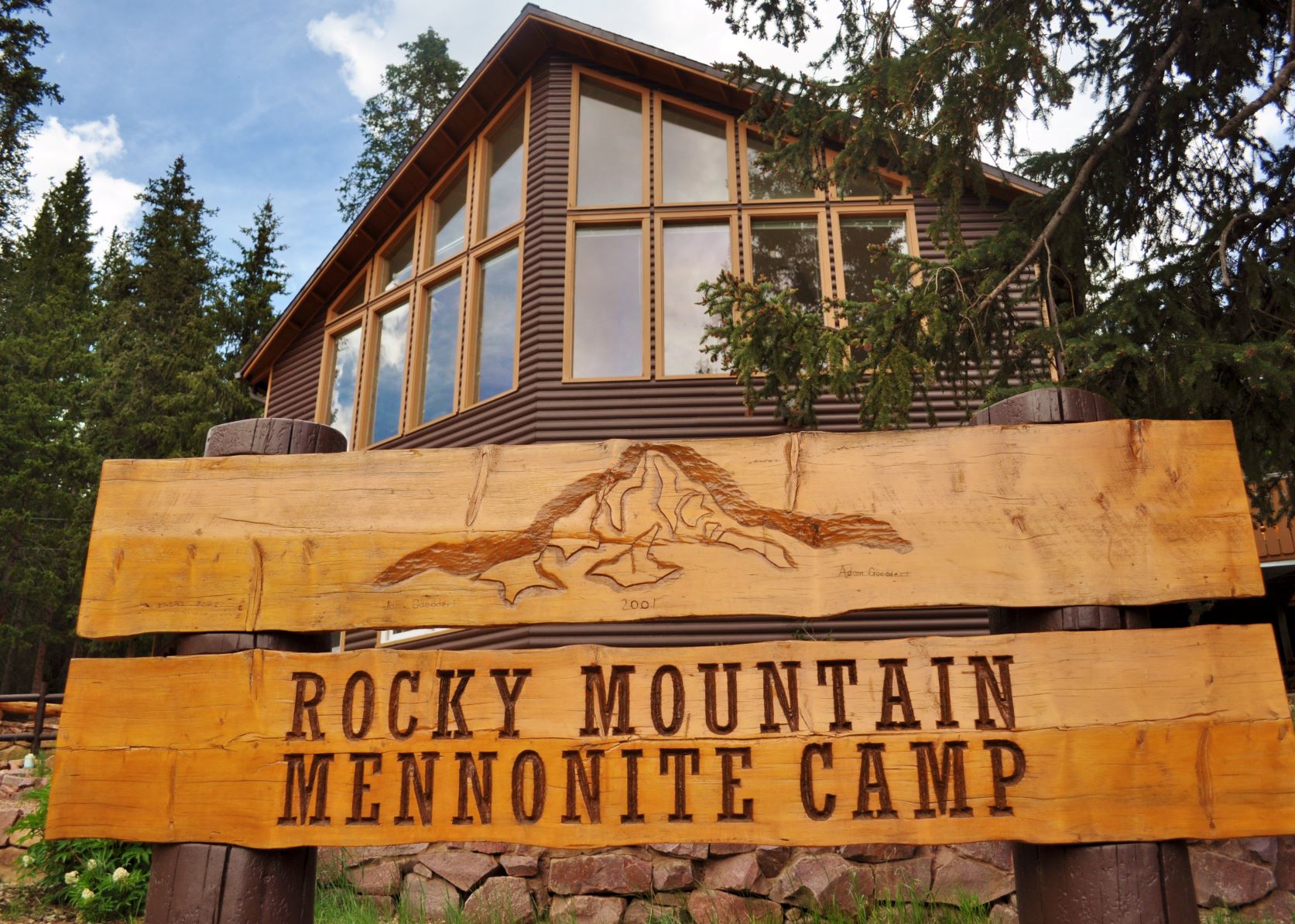 For updates to your newsletter subscription (i.e. additions of family or friends, change of address, etc.), please contact camp by:
PHONE
EMAIL