Mennonite Quilters Retreat
Spring: April 21-24, 2022
Fall: Oct 28-Oct 31, 2021
Arrival: 4:00pm (tables assigned before arrival)
Departure: 12:00 pm (after brunch)
 
Mennonite Quilters Retreat
Spring: April 21-24, 2022
Fall: Oct 28-Oct 31, 2021
Arrival: 4:00pm (tables assigned before arrival)
Departure: 12:00 pm (after brunch)
Quilters retreat give you space to work on a project while sharing ideas, tips, and stories with fellow quilters. Even if you are not a quilter and still would enjoy attending this retreat for the fellowship or to work on another project (needlepoint, embroidery, cross stitch,etc) please join us! Our leaders for the weekend are Barb Swartzendruber and Mary Yoder.
These retreats are geared towards (but not limited to) members of Mountain States Mennonite Conference churches with a purpose of connecting by faith fellowship and fun through quilting. The weekend will conclude with a Sunday Morning Worship and brunch.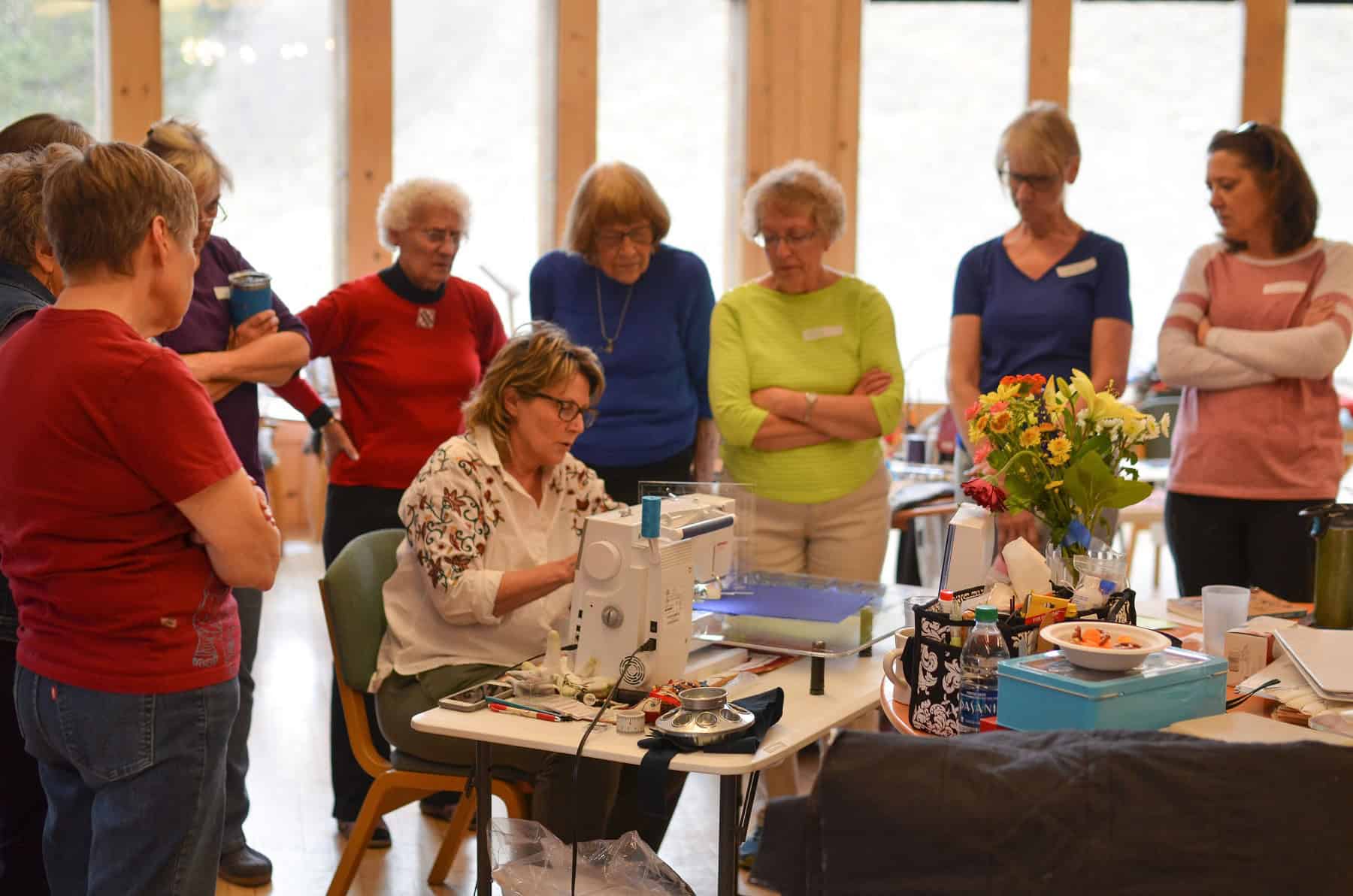 The price for the Quilters Retreat is based on accommodations
and includes meals. Online registration opens one year prior
to the retreat.
Online registration opens one year prior to the retreat.
REGISTRATION FAQ
Here are some of the most frequently asked questions as it relates to registration.
Deposit
A $50 non-refundable deposit is required at registration.
Payments
Payment options available include payment in full, deposit with remaining balance due at the retreat, or deposit and remaining balance paid in monthly installments prior to the retreat. We accept cash, checks or credit cards. 
Scholarships
Scholarship funds are available to help ensure that finances are not a barrier to attending camp. For scholarship assistance please contact the Executive Director, Corbin Graber (719-687-9506 or [email protected]).
Cancellations
Out of care for everyone during this time of coronavirus pandemic uncertainty, the non-refundable deposit policy (i.e. "We'll save you a spot and turn others away if you promise to come") has been temporarily suspended for coronavirus related cancellations. PLEASE stay home if you are experiencing any Covid-19 symptoms for a full refund. You will also receive a full refund should the retreat be cancelled altogether.
Accommodations
Housing is assigned on a first come first served basis for your preferred housing location. The housing location options are Pleiades, Emmental, Aspen (lower and upper), Heidi or Jungfrau. Emmental will be use only when Pleiades and Upper Aspen are filled. Pleiades and Upper Aspen have two single beds per room and linens and towels are provided. For those staying in a Chalet (Lower Aspen, Heidi or Jungfrau), please bring linens and towels. To see detailed information about these facilities please go to our Facilities page.
To prepare for your retreat with us, please check out the information about things to know before you arrive (ie: high altitude, weather conditions, ammenities, etc).
View the sample schedule to see the flow of the retreat.
Frequently Asked Questions
Do you have wi-fi?
A Wi-Fi signal is in various locations around camp. Because of camp's remote location and availability of high internet speeds, video or music streaming is not available.
Can you accommodate my dietary restrictions?
As much as possible, the camp will accommodate dietary restrictions. An option will be given to list all of your dietary restrictions during registration. We cannot accommodate dietary preferences. 
RMMC is not a peanut/nut free location since we serve a variety of campers and guest groups utilizing their own kitchen facilities.
What should I bring to camp?
QUILTING ITEMS TO BRING:
Project items (irons and ironing boards provided)

Items for show and tell

Short (5 min) sharing of quilting tips or demonstrations, if desired.

Power strips (if you have them)

Extra items you might need (machine needles, fusible web, bobbins, t

hread, etc)

Chair cushions (for extra padding) and foot board (for extra support)

 
PERSONAL ITEMS TO BRING:

Snacks to share with everyone

Toiletries

Clothing (variety of layers for varying temperatures)

Flashlight (for walking back to cabin at night)

Bedding if staying in a Chalet at Main Camp
What should I NOT bring to camp?
Pets (large or small)
Firearms
Alcohol
Tobacco
Illicit drugs
Marijuana
Dirt bikes
Firework
Four Wheelers
Drones
Do you have to be Mennonite to attend camp?
While teachings during the retreat are Bible-based and from a Mennonite perspective, campers of all faiths are respected and welcome to attend.