Resident & Wilderness Camper's Share about summer experience
FEEDBACK ON THE ADVENTURE ACTIVITIES (Rock Climbing, Rafting, etc.)
'Rafting was super fun but very cold. Horseback riding was cool but kind of boring.'
FEEDBACK ON THE DEVOTIONS LED BY YOUR COUNSELORS
'During fruits of the spirits Nathan, Andrew, and Natalie were all saying things that made us really appreciate the week.'
ABOUT WORSHIP TIMES LED BY PASTOR DAVE
"They were nice, but I would have appreciated a few more hymns to balance out the high-energy songs."
"I'm not religious so it was not all that interesting but every now and then he would say something really meaningful."
"This was probably my favorite part of the day! I loved the singing and music! Some of my favorite songs were Oceans, Together, Sanctuary, Blind Man, There's no God like Jehova, and Mercy is falling, are definitely my favorites."
THE FOOD
"One word: SCRUMPTIOUS"
"Money on the phone."
"Always top tier, especially with short staff, y'all killed it."
ACTIVITIES (Nature Study, Arts & Crafts, Evening Recreation, etc.)
"Great. I really enjoyed the Sharks and Minnow game because I was the shark."
THOUGHTS ABOUT YOUR COUNSELORS
"I had a lot of fun with all 3 of them. They were kind and totally awesome!"
PICTURED: Scenes from camp this summer camping season.
Volunteer and staff happenings
We hope you have had a chance to meet Tyler and Amanda Yoder who have served as volunteers with the SOOP program for the past year. Their willingness to come and help during the ongoing coronavirus pandemic has been a tremendous blessing as they have blessed everyone and supported the Rocky Mountain ministry with their gifts, talents and presence though all the seasons of camp. Reflecting on their time, they shared the following:
"Spending the year at Rocky Mountain Mennonite Camp has been both challenging and rewarding as we learned and worked in most areas of camp ministry. Being here as a family has given us an opportunity to reset and evaluate both our goals and priorities as we go back to Pennsylvania and move into the next phase of our lives. We have seen God in so many new ways as we experienced different aspects of camp life. Meeting and serving guests and campers throughout the year has been fulfilling and an absolute blessing. We have been honored to serve at RMMC, being the eyes, ears, hands and feet of Christ."
We hope the Yoder's willingness to volunteer for the year as a family will inspire other individuals or families to do the same!
PICTURED: Ellie, Amanda, Tyler & Wyatt Yoder
As we say farewell to the Yoder family, we also say welcome to Dave and Erin Schmidt who are volunteering for a full month following the summer camping season. The timing couldn't be better as camp hosted two weekend weddings back to back in August. They come to us from Oskaloosa, KS and have jumped right in to help with a successful Colorado Roots Music Camp at the beginning of August.
PICTURED: Erin & Dave Schmidt
Another welcome goes to Sam Hershberger who has accepted the position of maintenance and volunteer coordinator on a year around basis. Sam grew up attending Southern Hills Mennonite Church (Topeka, KS) where he first heard about RMMC. He attended Hesston Collage in 2005 and proceeded to work in a variety of construction jobs including remodeling houses with his dad. Sam then responded to the need for help with the camp's Pleiades project and volunteered from 2015-2017 through the projects completion. Most recently, Sam worked with his brother in Hesston, KS with remodeling houses and shared the following about camp: "RMMC is a special place for so many people, which is no surprise because of the positive energy that flows so freely from the great people who have invested their time and efforts towards a common goal."
Sam will be a great help in sharing the responsibilities of learning and caring for the facilities of camp as well as coordinating and facilitating the ongoing need for volunteers on a year around basis. And true to the variety of needs in camp ministry, Sam has also well demonstrated his willingness and ability to help where and as needed including joining Mary in the kitchen. Please help us warmly welcome Sam as he begins this new chapter here at RMMC September 15th.
PICTURED: Sam Hershberger
How camp does things has changed, but why we do them hasn't
As part of navigating the coronavirus pandemic as a camping ministry, some changes have been made that are more obvious than others. Fulfillment of the mission statement to campers and guests and all who are here continues to inspire the "why" the Rocky Mountain does what it does. The "how" camp does things operationally has been significantly influenced by the past and ongoing challenges of the coronavirus pandemic. Through it all, changes are made with the desire and need to provide for the sustainability of the ministry today and tomorrow caring for the resources (i.e. board, staff, volunteers, donors, facilities & finances) that makes the RMMC ministry possible.
Changing resident and youth camp programs to Sunday through Friday. One less day that allows for transition and staff time off between camp programs.
Camper registration details (health info., payment, release forms, etc.) are completed online before first day of camp (minimizing registration lines) so that only an Aspen wood name tag, health check-in with the nurse and cabin assignments are all that's needed when campers arrive to enjoy a week at camp.
Addition of ten picnic tables (seating for 80) outside and around DH/Lodge to benefit from the fresh air and natural beauty of the outdoors.
All summer staff serving in counseling role and step in/out of support roles (i.e. foodservice, housekeeping, office), through the camp week for variety and sustainability.
Combined staff meeting to connect and share at the start of each day which increases community support and communication. Previously individual program and support staff meetings were held.
Changes in 2022:
Afternoon monsoon rains throughout the summer was a SIGNIFICANT change from previous summer camping seasons. We were grateful for the lack of fire bans throughout the weeks of summer and how lush and green things are. The wildflowers in particular took advantage of the moisture and were beautiful and abundant!
New GPS devices have been added for the benefit of the resident camp and family camp programs. Wilderness camp has utilized for multiple years but not with the benefit of texting unique messages
Completion of camp facility signs were put in place along with property boundary signs helping campers, guests and the general public know where they are. The old fashioned way before GPS devices!
The camp reservation book has made the transformation from fully paper tracking (pencil/pen based) to fully computer tracking (internet cloud based). While both were used in the transition, the benefit from efficiency and ease of summer staff training (the learning curve) made it the right time for the change.
Trading Post for campers and guests has also fully moved from paper to computer record keeping. The intuitive program has been helpful for its ease of use (lowering learning curves for staff and volunteers) and efficiency of exchanging and tracking funds.
New kayaks and paddle boards were added for ongoing enjoyment of all ages at the pond.
Beginning the month of September, the monthly Rocky Mountain Mennonite Camp electronic newsletter you are currently reading will transition to a collection of posted individual stories throughout the month. So while the story telling will remain the same, only the way these stories are shared will change. They will be posted on the camp web page. Additionally, an abbreviated version (with link) will be posted on the RMMC Facebook and Instagram accounts with the goal of reaching more people given the variety of ways we each learn about the people and places we care about. So keep watching and seeing how RMMC is making a difference here on the west side of Pikes Peak massif and beyond! 
PICTURED: For the first time this summer at resident and family camps, "hard" hike, "medium" hike and "easy" hike GPS devices were acquired to offer 1. Peace of mind in contacting emergency response when needed; 2. Communication with main camp at all times vs. only direct line of site (radios, cell phones) for coordinating pick-up times; 3. Offer confirmation of trail routes to RMMC hiking destinations (especially Pinnacle). The wilderness camp program has had a similar device for multiple years. An alumni summer staff member working at Garmin was very helpful in making this helpful improvement possible.
PICTURED: Campground, Solitude Center and Park Ridge facility signs were erected and painted over the course of the summer. Additionally, new signs at the camp boundaries with Pike National National Forest were also put  in place above Staffville and at the Sky-Hi-View and Rocky Ridge cabins. The boundaries where the road passes through the camp property where Frontier Boys Village was originally located received signs as well.
PICTURED: The pond continues to be a fun gathering space of enjoying being on or by the water.
Who's been helping
Thank you to all of our volunteers this summer:
Jason Blough
Sharon Blough
Bethel College Mennonite Church Youth Group
Erin Day
Jasmine Day
Sophie Day
Karen Deaver
Terry Deaver
Claire Franz
Gretchen Franz
Marty Gingerich
Natalie B Graber
Tonya Graber
Jason Harrison
Sam Hershberger
Hillcrest Academy Cross County Team
Heidi Johnson
Jill Litwiller
Eric Litwiller
Lisa Longacher
Mark Longacher
Cliff Mease
Julie Mease
Raymond Metzler
Dave Miller
Charity Ortman
Paul Ortman
Prairie Chapel Youth Group
Renee Reimer
Natalee Rowley
Jami Simon
Riley Stice
Rachel Stutzman
Steve Stutzman
Neal Trantham
Bill Unruh
Walnut Hill Youth Group
John Voth
Nadine Voth
Aaron Voth
Marie Voth
Zach Wiens
Rose Yoder
Jason Yoder
PICTURED: Volunteer van drivers are yet another important part of providing camper transportation from Kansas. As scholarships are offered to ensure money isn't a barrier to a summer camp experience, so too is transportation offered to ensure that the distance to Rocky Mountain isn't a barrier to enjoying camp. On this particular trip, three vans were needed to carry participants across the plains of Kansas and Colorado. The adjustment for all on this particular trip was feeling the temperature double from a morning 51 degrees at camp to an afternoon 104 degrees in western Kansas!
Come volunteer
RMMC relies on the help of volunteers to keep the ministry going. Your help with any camp tasks is greatly appreciated! If you have interest in volunteering, call (719-687-9506) or email ([email protected]) RMMC. Did you know that volunteers represent the work of 4 full time staff members!
Long-term volunteers: help in Food Service, Maintenance, and Housekeeping. Service term can be for up to a year if so desired.
you've been spotted
We spotted Kamryn Martens & Bethany Cyr in Buhler KS earlier this summer selling reusable water balloons. A fun way to keep cool in Kansas as is traveling to Colorado for a week of camp at Rocky Mountain.
Please share your "spotted" photo with us by email to [email protected].
PICTURED: Kamryn Martens & Bethany Cyr
what you said
Things we appreciated about our stay at RMMC
Appreciated? So many things! Love the space! Love the swings! Love the upside down umbrellas! Loved the presence of the staff at mealtimes and their availability for short conversations. Loved the map for the disc golf course. Loved the awesome hiking trails leading to amazing views. Everything seemed so well kept. I stayed at the big house at the top of the road. I also loved that we had so many free and open meeting spaces. The kids loved the paddle boats. The food was terrific and healthy. Appreciated the gluten and dairy free provisions. Very nice to have the basketball court within view of the chapel windows so adults could meet while kids played outside within view. Also appreciated the diverse lodging accommodations that met the needs of our group so well.     – Gingerich Family Reunion
Beautiful setting. Highly responsive correspondence. Flexibility with our changing situation as members of our group dropped out or cancelled meals. Excellent informational resources on trails, facilities, activities. Enjoyed plant and animal guide; four deer visited the Emmental parking lot on Wednesday morning! Very friendly and responsive staff including the young people – dynamic! Very nice facilities. Ping pong and foosball were very nice. Great recreational space on three levels of Emmental. Access to lake; paddle boats; kayaks; etc.     – Litwiller Family
Thank you so much again for the use of Eagles Nest last week. Communication is wonderful with RMMC – quick complete accommodating response every time we had questions, reservations, or requests. The cabin was clean and well furnished with everything we needed.  When we had a request for a renewed supply, the response was friendly and quick.  The views from all directions were incredible as well! It was a marvelous week for our family to be together in the mountains at a christian facility! We really don't have any suggestions as all our needs and expectations were met and then some. Thank you again – and God Bless!     – The

Hovey family
Monsoon Rains Return this summer
Everyone is seeing with their own eyes how green everything is here and around Rocky Mountain. The wildflowers this summer are especially abundant. Quite simply, the afternoon monsoon rains (typically at 2:32 pm each afternoon) have returned. The stream that runs beside Jungfrau, Heidi and the shop is running again and the fire bans of previous summers have also been lifted.
PICTURED: A double rainbow as seen from Divide, CO with Raspberry Mountain in the sunshine on the left and Old Baldy in the shadows on the right.

Please visit our Make A Reservation page which lists the dates of available nights for ridge cabin accommodations. Please call to verify availability.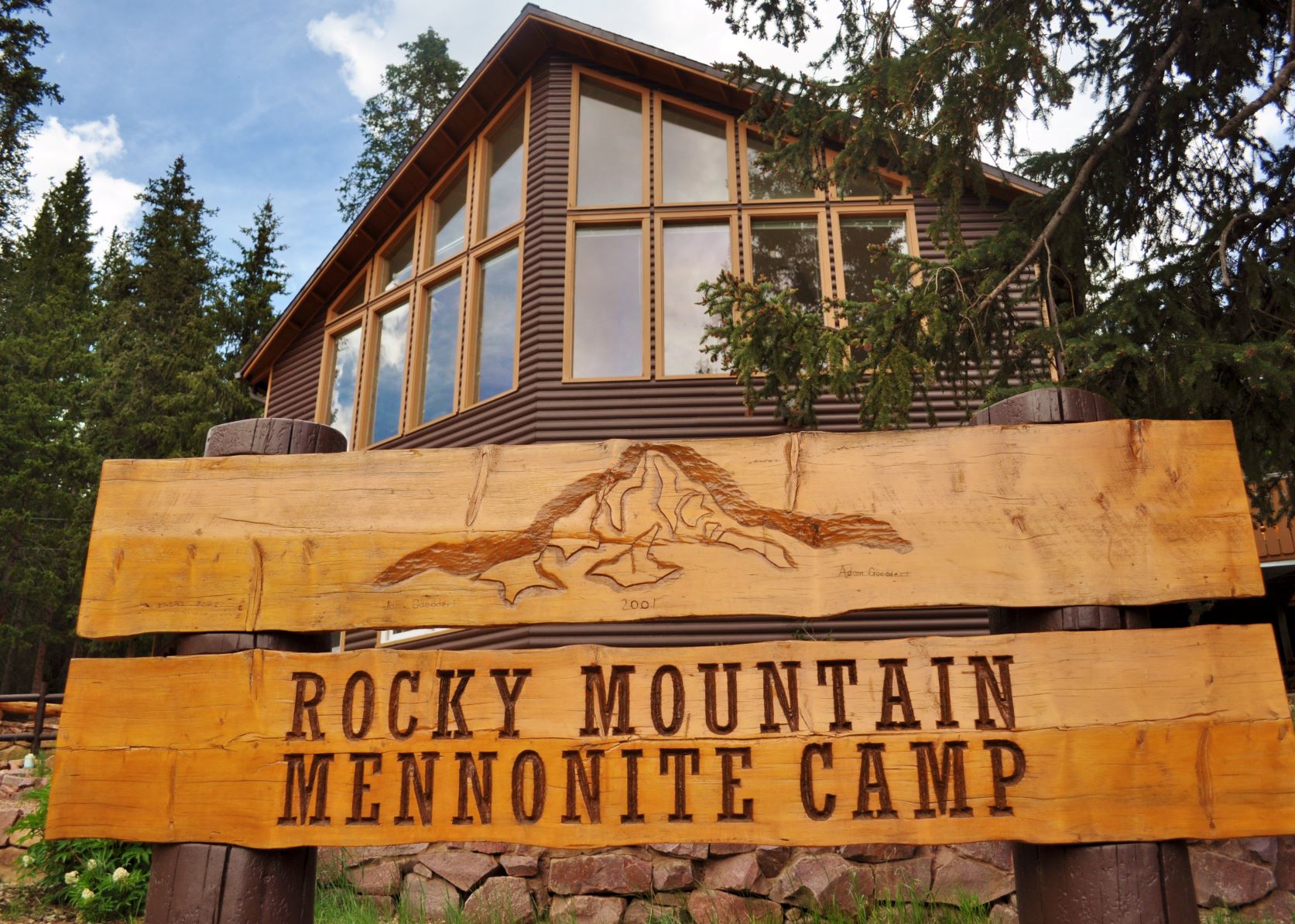 For updates to your newsletter subscription (i.e. additions of family or friends, change of address, etc.), please contact camp by:
PHONE
EMAIL