THANK YOU, VOLUNTEERS!  We could not do it without you. 
 
The ministry at Rocky Mountain Mennonite Camp is possible because of the dedication of countless volunteers. From weekend retreats in the fall and winter, to week long adventures in the summer, volunteers can been found at all corners of camp. RMMC is a stronger ministry because of all efforts to keep this place running for guests. 
VOLUNTEER POSITION OPTIONS
| | |
| --- | --- |
| | |
| | |
| - Assistant Food Service Director | |
| |   |

DATES VOLUNTEERS ARE NEEDED
Volunteers are needed all year in various positions. As the seasons change, so do the projects and tasks. The number of daily guests increase during the summer season and are mostly present at camp on weekends during the off season (of course with exceptions).  September to May is considered Off Season, and June to August is considered Summer Season.
SHORT TERM VOLUNTEERS
Short term positions are typically two weeks or less. They range from helping with outdoor projects like painting, landscaping, chopping wood, etc. Other opportunities where we might need help would be with housekeeping or kitchen. Based on your ability and willingness, we can find tasks that fits our ministry needs and your gifts. No application is necessary if you are with us for shorter than two weeks. Please call us to discuss your interest. ​Free housing, food and health insurance coverage (up to $5,000 for those without primary insurance) is offered for those unable to make longer term commitments.
LONG TERM VOLUNTEERS
Long term positions are longer than two weeks. If you are considering a long term position, please complete an application and three references (from people other than immediate family & peers). We are listed with Mennonite Mission Network as a service location for SOOP. An application from them is also acceptable. Visit the 

SOOP website

 for more information. Submit an application and references to camp via email or mail.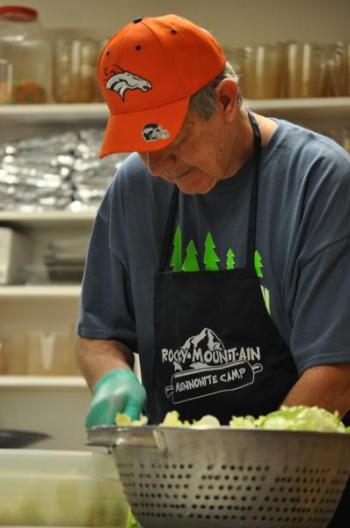 PERSONNEL POLICIES
1. APPLICATION REQUIREMENTS 
| | |
| --- | --- |
| For Short Term Volunteers  | For Long Term Volunteers  |
| - No application is needed | - Completed application form |
| - Contact camp via email or phone | - Three personal references  |
2. ITEMS PROVIDED BY VOLUNTEER
| | |
| --- | --- |
| - Transportation to and from camp | - Warm sleeping bag or bedding |
| | - Towels and personal toiletries |
| - Mountain boots or work shoes | - Camera (optional) |
| | - Camping gear (optional) |
| | - Musical instruments (optional) |
| - Water bottle | - Sports equipment (optional) |
| |   |
Volunteers are provided with available facilities at no cost. Housing accommodations range in amenities and will depend on the time of year and the number of guests/other volunteers at the camp. Some facilities are only beds and utilize the area bathhouse. Other facilities are apartment style and include a private bedroom, bathroom, kitchen and living area. RV hookups with water, sewer, and electricity are available from June to September. 
4. FOOD
For Summer Season Volunteers
- Meals will be provided daily at no cost from the camp food service. 
- Volunteers may bring/buy personal food items and store it in the Staff Lounge refrigerator or their personal accommodation's kitchen.
For Off Season Volunteers
- Food will be provided at no cost when camp meals are prepared for guests. 
- When meals are not served for guests, food will be provided at no cost for volunteers to prepare for themselves in their accommodation's kitchen. 
- Volunteers may bring/buy personal food items and store it in the Staff Lounge refrigerator or their personal accommodation's kitchen.
5. LAUNDRY FACILITIES
Camp has a laundry room with washers and dryers for staff and volunteer use. Laundry detergent is provided.
6. VEHICLES
Camp vehicles are to be used for camp business only and not available for personal use. Volunteers may have personal cars at camp. All vehicles must: 
- have adequate liability insurance coverage.
- be parked in designated areas.
- not be used to transport  campers (legal implications).
- be operated considerately and responsibly.
7. CAMP TELEPHONES / COMPUTERS
Camp phones and a designated computer are available for personal use after camp office hours. Please limit length of personal phone calls and computer use to allow for other staff, guests, and volunteers to use them as well. Personal laptops and electronic devices with wi-fi capabilities are welcome to connect to the RMMC wi-fi network. 
8. WORK SCHEDULES & TIME OFF
Work Schedules
- Assigned an eight hour shift each day
- Shift times will depend on position and needs of camp
- Typical shifts are between breakfast and supper, and Kitchen shifts from 6:30am - 2:30pm or 11:00am to 7:00pm.
- Will be given a set time to break for meals
- May ask supervisor for additional break if necessary
Time Off (for Long Term Volunteers)
- 5½ work days with 1½ days off per week
- Day off requests will be considered to meet the needs of all volunteers/staff
9. RESCHEDULING RESPONSIBILITIES
Every volunteer must be amenable to re-scheduling since the nature of our ministry does not allow for a rigid schedule. Conditions sometimes demand occasional temporary changes in responsibilities. All volunteers and staff are asked to be willing to accept such assignments as needed.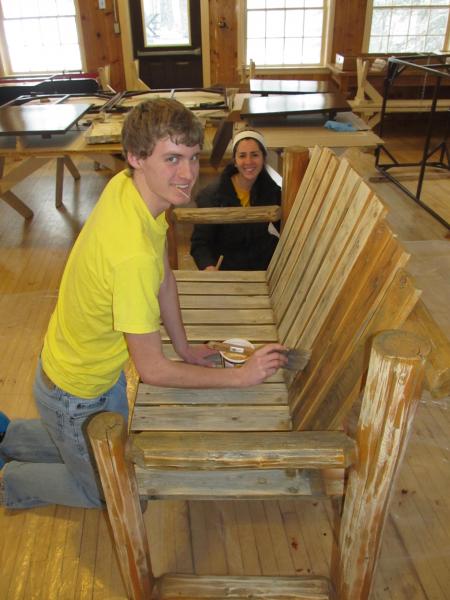 10. CAMPER SUPERVISION POLICIES
Only camp personnel who have been properly orientated through Staff Orientation week and have had a background check with three references can have access to campers. Authorized camp staff will be the only persons allowed to solely supervise campers for the safety of the camper and staff. As a volunteer we ask that during meal times you sit at the assigned Staff & Volunteers table. If there is ever a time where you find yourself alone with campers, please find the Program Director or Executive Director immediately.
11. PERSONAL CONDUCT
The use of tobacco, marijuana, alcohol, and illegal drugs do not serve the best interest of the camp and are not permitted.
FREQUENTLY ASKED QUESTIONS
Who should I contact if I'm interested in volunteering?
Corbin Graber, executive director, oversees the projects and services that are in need of volunteers and can be contacted by email, corbin@rmmc.org, or phone, 719-687-9506.
Do you allow pets?
Can I bring my family to volunteer?
If families are interested in volunteering, we ask that one parent works while the other parent watches the children. Parents can rotate working and childcare throughout the time here at camp based on our volunteer needs. Kids are welcome to pitch in as they situation provides for their safety and the safety of others.
I have an RV. Can I bring that to stay in while volunteering?
Yes! RV sites are available June to September. We'll need to coordinate site space when you plan to be here but an RV is certainly an option for your housing. Hook up sites include water and electricity with a few sites that also include sewer. 
You can see photos of our volunteers on our facebook page: Volunteer Photo Album