Men's Retreat weekend
As with other cancelled programs over the past two years, it was a blessing to hold the Mountain States Mennonite Conference (MSMC) Men's Retreat again. Special thanks to our speaker John Sharp for his powerful sharing about stories including his son MJ. The newly released book about MJ Sharp continues to be available at the Camp's online Trading Post.
A first for the weekend for a gathering here at Rocky Mountain was to have 7 people join the worship sessions online via Zoom and be able to be part of the worship sessions and also share their own stories and experiences to make a total group of 27.
Another first was the addition of regular curling alongside its camp created "cousin", human curling. The two sheets of ice (technical term for curling game) allowed for both to be played side by side. Good food, good friends and meaningful fellowship and worship were enjoyed.
PICTURED: Images from MSMC Men's Retreat
Participants shared the following about their weekend experience including:
Things I appreciated:
"Food, approachable programming, and Flexibility in afternoon plans"
"Interaction with others & the time/space to do so."
About the worship times:
"Openness of John in sharing joy and pain with MJ's life and death."
"Enjoyed opportunity to tell own and hear other's stories Sunday AM."
"Thank you for reminding me of my own stories."
About accommodation and food service:
"Top notch"
New Program Offering for Young families
Time for kids to play and parents to connect! Fall Family Fun Retreat is geared to young families with young children who may or may not have connections with the Mennonite Community or other faith tradition. Activities for children are orientated for 2-8 year olds. This is the age group that are too young to attend summer camps at RMMC, but ready to be introduced to the RMMC experience. The hope is to offer an affordable opportunity to enjoy quality time together in the mountains.
Staying under one roof, in Emmental Chalet, parents will be able to put the kids to bed and make connections with other families with future campers outside of the church building setting. With hikes for moms in the morning and dads in the afternoon, there is an opportunity for both adult time and family time. Arts and crafts, kayaking, a mine tour with gold panning, duck races, and free time are just a sample of activities during the weekend. Evenings include kids-play time, adult socialization, and late night snacks and games (just don't wake the kids).
Please join us or share with a family you know who would welcome this new offering as part of the Rocky Mountain ministry!
PICTURED: Images from previous family camp programs
What about coronavirus and practices for the coming summer?
CORONAVIRUS – The journey continues of course in appropriately following practices that are safe for us and those around us. As of April 1, please visit our Coronavirus Information page on the camp's web site. Bottom line, if summer camp were held today, masks will be optional inside and outside. Camp will continue to respond in a way so that all who come to Rocky Mountain can have a fun, safe and meaningful experience. As a result of the collective efforts and practices thus far, camp has only had one positive case of COVID-19 over the past two years. So a word of thanks and appreciation for the energy, effort, patience and understanding. We are filled with gratitude.
REGISTRATION – The more things change, the more they stay the same will well describe the registration process online and on the first day of camp.
Online Registration – An important part of getting signed up for camp is the information and forms required as a part of child care license (i.e. emergency contacts, health history, physical, medications, etc.) along with release forms for activities (i.e. whitewater rafting, adventure park, horseback riding). To simplify and improve the experience of campers registering for camp, RMMC is working to minimize/eliminate the search for email messages or web links that don't work. How? Keep it simple for everyone! The web page of each camp program is designated to serve as a one stop shop for those registering for camp and camp staff too!
Arrival Registration – Campers will be given a number like last year except folks will be able to gather and visit at the benches and picnic tables around the DH/Lodge and umbrella patio (no playfield this summer). A greeting & meeting with the camp nurse and the program/counseling staff for a cabin assignment is all there is to do before moving/settling in. Any form (i.e. physical, immunization record, release form, etc.) is hopefully already uploaded online and payment for camp or money deposited to a Trading Post account for the week is deposited and been taken care of BEFORE arrival.
With these items cared for, all of us can simply look forward to a memorable and meaningful camp experience here at Rocky Mountain Mennonite Camp. See you this summer!
PICTURED: Image from Animal Survival (a camp favorite) from Grade 4&5 Resident camp
Wilderness Camp Opportunities
Wilderness camps are filling up quickly so get your spot soon! Each week features a destination in some of the most beautiful parts of Colorado accompanied with Rock Climbing & Rappelling as well as white water rafting! This week can act as a fun change of pace or a way to disconnect from the world and connect with God in the natural world. During the week, campers live on what is called "wilderness time!" with the translation of intentionality being unaware of what time it is throughout the day allowing for a break from the schedules of everyday life. For more information, visit the following wilderness camp pages via the links below
The response to the "
Paying the Legacy Forward
" campaign in 2020 and 2021 has been nothing short of inspiring. While the coronavirus pandemic uncertainties continue, the financial support received builds a sustainable foundation for the immediate future. Thanks for your ongoing support in this time of ongoing challenges in offering a safe and healthy space here at Rocky Mountain to all who come!
Who's been helping
Thank you to all of our volunteers this month:
Randal Friesen
Lynette Horner
Dan Jantzen
John Lamman
Dennis LeFevre
Cindy Martens
Eldon Martens
Jerry Martin
Mark Miller
Bryan Miller
Stan Miller
Mil Penner
Rodney Stutzman
Douglas Swartzendruber
PICTURED: Men's Retreat Workday (Friday day before retreat begins) joined in to help to add a shower in the bathroom of Sky-Hi-View.
PICTURED: Eldon & Cindy Martens working at attaching the Onyx sheets for the shower stall which is located where the sink and counter was previously located.
PICTURED: Additional view of renovated Sky-Hi-View bathroom project.
Come volunteer
RMMC relies on the help of volunteers to keep the ministry going. Your help with any camp tasks is greatly appreciated! If you have interest in volunteering, call (719-687-9506) or email ([email protected]) RMMC.
Long-term volunteers: help in Food Service, Maintenance, and Housekeeping. Service term can be for up to a year if so desired.
you've been spotted
We spotted Eli Regier and Zach Kennel at Thresher stadium cheering on the Bethel College (KS) track team. Both were summer staffers this past summer and will be returning again this year!
Please share your "spotted" photo with us by email to [email protected].
PICTURED: Eli Regier and Zach Kennel sporting their staff shirts.
what you said
"RMMC Staff – I am grateful for the positive experiences my grandchildren have had as both campers and summer staff. Thank you for making RMMC a special place for our family. I enjoyed your candy treats, especially the coated pretzels. Blessings." – Lois Hiebert
"RMMC – Thank you for hosing our wedding!!! We are so glad that you have maintained and added facilities for these type of events! Blessings as your ministry continues." – Rodger & Cindy Weaver
"RMMC – Blessings to you and the ministry you provide. Thank you for the rest you provide so many as well." – The Brockmuellers
Boundary signs arrive and National Forest change in public access
The third of three sign orders have arrived at camp and represent the boundary signs listing "Entering" and "Leaving" RMMC on each side. They will be posted at the following locations where old National Forest service roads (not open to the public) meet the camp property including:
Rocky Ridge
Sky-Hi-View
Frontier Boys Village
Forest Service Road (FSR) 385 boundary (road past Staffville which is trail to Elk Meadows, Raspberry Mountain and Pig Rock) 
The signs at these locations are intended to be helpful to both camp guests and the public in both informing and directing the people who come across them. Especially when someone is lost on the trail which happens more often than you think. Another opportunity for this ministry to be a place of retreat and community in God's creation here in Pike National Forest.
In what I can only describe as Spirit timing, I received correspondence from the Acting Pikes Peak District Ranger while putting this article together. Letting the email speak for itself (see below), it importantly communicates the changing status of FSR 385 coming soon. The significance and helpfulness of this news is the reduction of vehicle traffic and noise along with the increase of privacy on camp property. The main road (FSR 383) from the highway which leads to the Crags will now be the only public access though Rocky Mountain's property boundaries since the land was purchased in 1952.
The conversation about this access has been going on for more than 20 years and was shared with me by Allan Bartel (camp executive director 1980-2001) and seems to represent the quote that "Nothing is impossible . . . it just takes longer!"
From: DeWoody, Jennifer -FS
Date: Thu, Mar 31, 2022 at 7:09 PM
Subject: Pending question from Rasp Mtn Public Meeting
To: [email protected]
Hello Mr. Graber,
Apologies for my slow response but I wanted to (finally) follow up with you about the question you asked during the Raspberry Mountain public meeting. I believe you were asking about NFS Road 385, which crosses the camp property and then enters NFS lands.
As you may know, we have been working on a travel management project to update our motorized roads and trails. We expect the Forest and Grassland Supervisor to sign the decision within the next month (it has been pending so long I know it's hard to believe, but we're getting really close!).
In that decision, NFSR 385 will be designated for administrative use only, not open to public motorized access.
Please let me know if you have any other questions about this.
Sincerely,
Jenn
Jennifer DeWoody, PhD
Acting Pikes Peak District Ranger
Pike-San Isabel National Forests & Cimarron and Comanche National Grasslands
PICTURED: Mark Arnold of Sonshine Signs was the craftsman/artist from Salida who created the new camp signs..

Please visit our MAKE A RESERVATION page which lists the dates of available nights for ridge cabin accommodations. Please call to verify availability.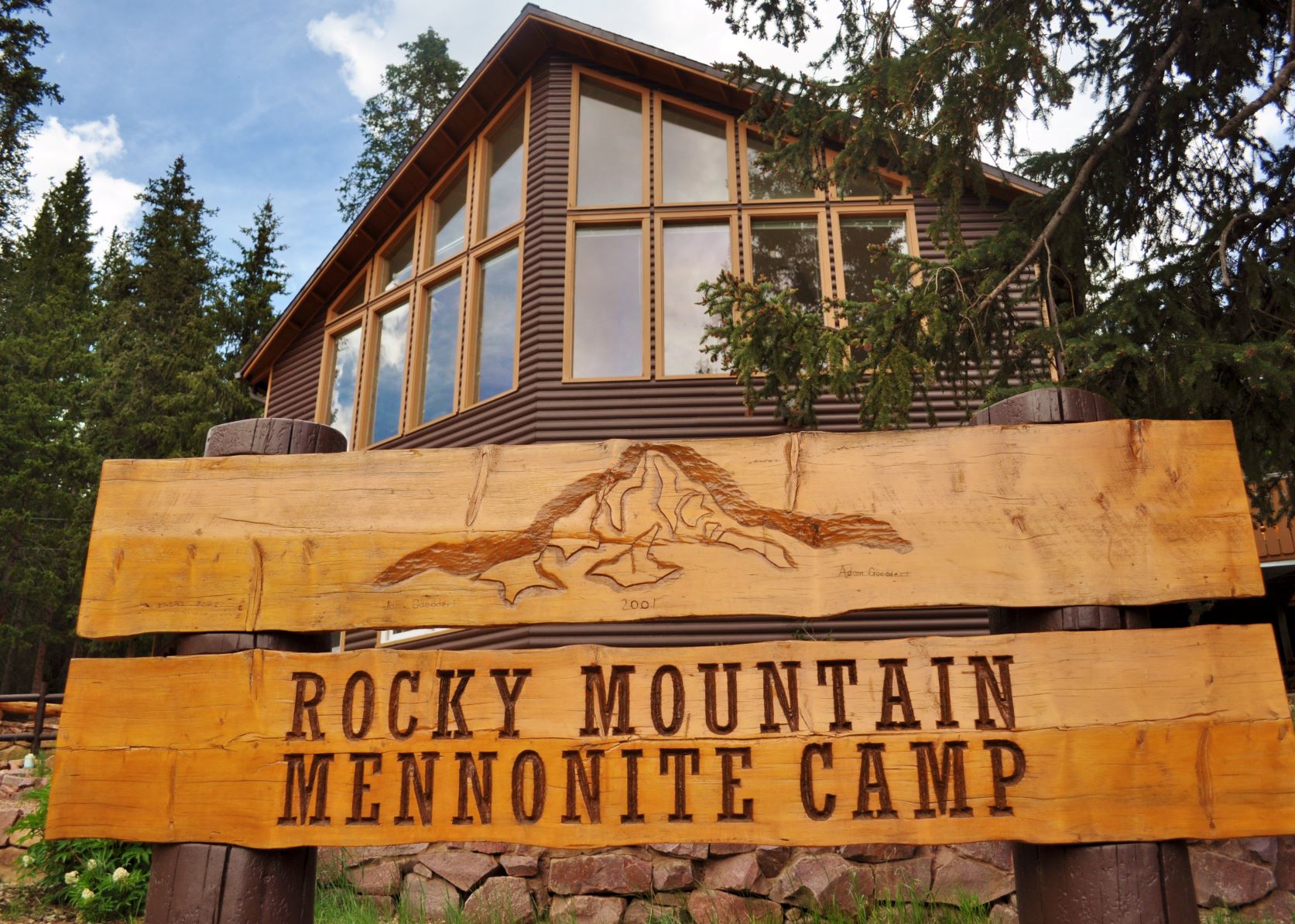 For updates to your newsletter subscription (i.e. additions of family or friends, change of address, etc.), please contact camp by:
PHONE
EMAIL